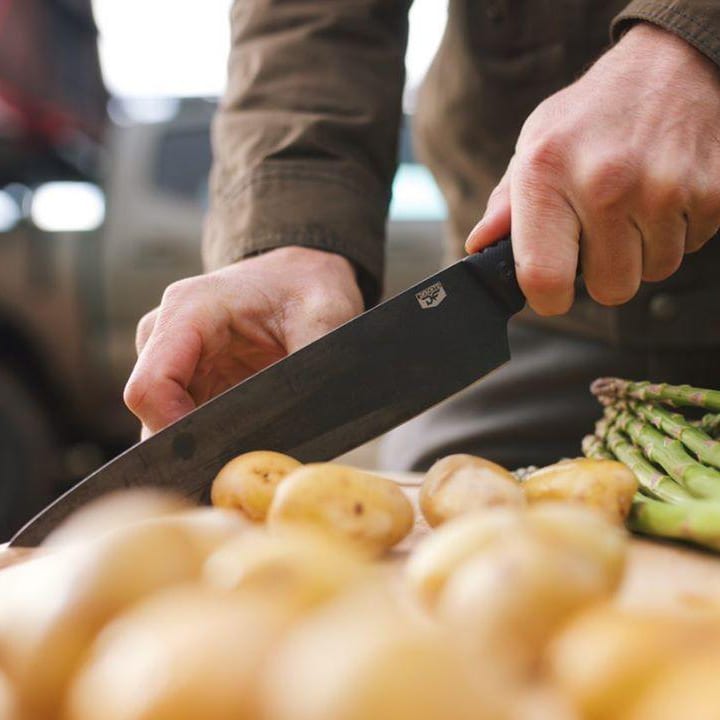 FUNCTION. FORM. DURABILITY
Each Interceptor Series knife has been meticulously crafted to achieve excellent balance. Our culinary gear can be comfortably used by large and small hands. Each style of blade in the series has been honed to the specific task associated with blade types and style. The black fiber-resin scales incorporate finger grooves for a solid pinch grip combined with a scalloped bolster for superior slip resistance while the heel is finished with a lanyard hole to securely tether your tactical culinary knife when you are not preparing food in a traditional kitchen atmosphere.
The impact resistant G-10 mil-spec fiber-resin anti-slip handle is nearly impervious to heat, cold, and moisture. The knife's handle is secured to the full tang blade by three acid stonewashed corby bolts. With imposing style and rugged functionality, take command and make a statement about who you are with DFACKTO tactical culinary knives.Shop our selection of culinary tools today.
EXCEPTIONAL CULINARY TOOLS DESIGNED FOR WHEREVER YOU ROAM.
DFACKTO – Dining Facility Knife & Tool Outfitters mission is to offer premium rugged culinary tools for outdoor lifestyles. We couldn't find the right kinds of rugged culinary products that suited our life outdoors cooking with fire so we decided it was time to merge the balance and precision of high end kitchen knives with designs and materials meant to withstand extreme conditions of our campsites. When you're in a kitchen you don't have to deal with extreme cold, heat, snow, rain, or worse. We wanted a knife that we could hold in wet, cold, and freezing conditions without it slipping out of our hands or worrying about it getting immediately ruined by falling it into a campfire. With our flagship Interceptor Series, we found that merging a secure tactical style grip with the ergonomics of culinary knives and the right premium materials provides for an extremely rugged knife with excellent weight and balance. Whether we're camping, tailgating with friends, or preparing a meal at home for family, we require the right tools for the job and an average knife just doesn't cut it! We look forward to having you joining us on this adventure as we continue to release culinary tools that are ruggedly dependable and highly functional.
We use premium materials and we are proud of our craftsman in China who insure our cutlery is of the highest quality. We are so confident in our product, we offer a lifetime warranty protecting against craftsmanship and materials defects.